Become a Weichert Agent
Lean more at our next Career Night!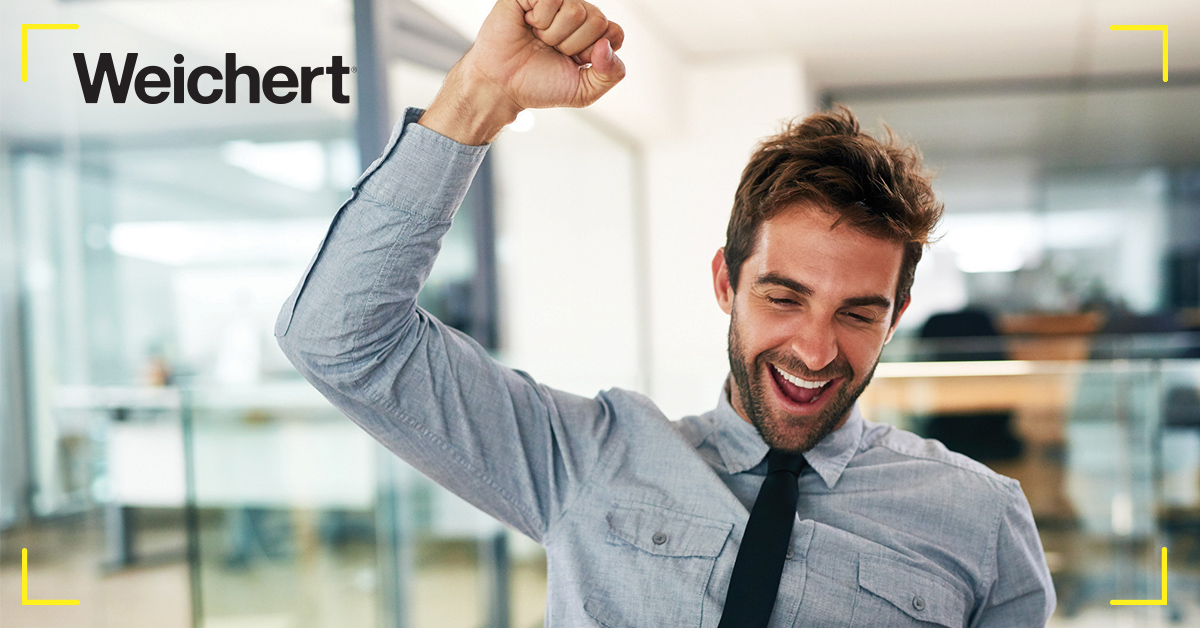 Above the Rest
As an independently owned and operated Weichert affiliate we have the resources and experience of hundreds of offices and over 45 years of experience. With access to world-class technology, marketing and client management systems combined with hands on training and lead generating systems, Weichert gives your business the advantage you've been looking for.
Who We Are
Our agents are carefully hand picked to create an environment of success within the brokerage. As a member of our team you would receive the full support and training of our fearless broker Michael Albano, who founded Metropolitan Boston Real Estate in 2005; committed to bringing a new vision of customer service and innovative technology to the independent real estate agency. He has over 30 years of experience in the field and an extensive background in marketing for global retail leaders that he draws on while training his agents.
Every agent will also receive constant support and training from our sales manager, Alex Navarro. His two decades of experience in hospitality, education and customer service will impart to you unparalleled client handling skills that will breed customer satisfaction like you've never achieved.
The Right Stuff
We refuse to charge our agents for the privilege to work for us, use our office or file their paperwork. Our brokerage provides for your needs and offers up a top of the line, all encompassing smart-CRM, for free. Not only that, we will provide you with an AI driven agent website, lead generating engine, automatic email campaign and task manager that is integrated with your smart-CRM, all at absolutely no cost to you.
We do the designing for you, you'll never have to worry about making a new monthly newsletter or listing presentation again. Weichert has you covered and gives you the resources you need to get and close more appointments and make more sales, faster.
Weichert has lead the way for years with their call center, getting buyer leads in to the ears of agents within minutes of their first contact, not hours or days like other systems. With the Weichert Lead Network you will receive leads on a regular basis that required no prospecting at all, for free.
We offer weekly in house trainings, access to all of Weichert's online training resources and free in person seminars. Our partnership extends to industry leaders like David Knox and Mathew Ferrara and gives you access to all of their online training material, again, for free!
Bask in the benefits of joining a team of hard working professionals who share their knowledge with their colleagues without having to pay for the privilege. Work for us and unlock your capacity to grow your business beyond your peers.
Call or email me today!
- Alex
Testimonials
" When I first met with Alex Navarro, I told him no to waste his time because I was not interested in buying a new property. However, he was patient and always available to answer any question I had. One day I showed him a property that I was interested in; within a month the property was mine. He and the people he works with made the process smooth. I will recommend Alex to my friends and family. He was very professional and approachable through out the process. "
- Marcos Tineo
" Alex was an absolute pleasure to work with. As first-time home buyers, he made the process very straightforward and provided additional resources to his own wealth of knowledge that helped make everything very easy to understand. With this being such a huge investment, it was reassuring having an advocate in our corner who listened to what we were looking for and handled the whole transaction with our best interests. I highly recommend Alex to help guide you to your future home! "
- Janine Pohorely
" Alex is very easy to work with because he is so professional and also super friendly. When helping us buy a home, Alex was always proactive and responsive. He gave great price analysis, really thought about things from our perspective, and made sure our rights got protected. Alex is the best agent we have worked with! "
- Jie S.
" Alex helped my wife and I purchase our first home in East Boston. His expertise and responsiveness made our first home buying experience run super smoothly. Alex also referred us to a mortgage officer and attorney, both of whom did excellent work on our behalf. I would definitely recommend Alex to those looking to buy or rent property - he's a great person and will work hard on your behalf.  "
- Alycia Rovner
" Alex helped me buy my first place in Boston and could not have made the things any easier! As a first time home buyer I had little knowledge of the home buying process and Alex walked me through each step explaining the ins and outs and making sure I understood everything and had all the necessary information. He consistently communicated with all parties involved (me, lender, lawyer, etc.) and helped to keep everything on track for a successful closing. I couldn't have asked for a more dedicated realtor. Alex really went above and beyond every step of the way! "
- Emma
" Alex is accessable, personable, and honest. Looking for a home is a stressful experience, but Alex is on your side and supportive each step of the way. He is intuative to his clients perspectives and knows when to guide you and give you space. Thanks Alex! "
- Bethany Goldenberg
" Alex came recommended through a friend and my husband and I could not speak more highly of Alex. He was incredibly thorough from the first conversation to close, listened to what we were looking for and worked hard to get us into showings. Alex was fully invested through our search including pointing out potential concerns with houses and walking us through the offer process. Any updates through the mortgage and legal process we're promptly relayed to us. I would (and have) recommend Alex's services for anyone doing a home search. "
- Danielle
" After starting my search for a new home, I met with several other agents, but none of them clicked like Alex did. Alex made the entire home purchase process a breeze. His communication is excellent, and always made himself available. He is very kind, and an excellent negotiator at the same time. I am so glad Alex was on my team during this challenging process. I wholeheartedly recommend Alex for any home purchase or sale. "
- Erdem Aksu
" Alex was a pleasure to work with. As stressful as purchasing a home can be, especially during a pandemic, Alex was the best resource we could have asked for. He was responsive and resourceful, always ready to share knowledge when we had questions. He made the whole process feel comfortable, allowing us to feel good about decisions at every step. I highly recommend using Alex. He will go above and beyond for his clients! "
- Carly Troccolo
" Our close friends recommended Alex and he could not have been more patient, understanding, and professional. Besides the amazing hose we ended up buying, Alex was the best decision of the entire process. Throughout the search and purchase process, Alex was encouraging, positive and flexible. This was the first home my partner and I purchased together and Alex even navigated our varying preferences and wish lists with kindness and a whole lot of valuable insight. Ultimately we found the perfect home and we wouldn't have done anything differently. "
- John Hosmer
" Honestly Alex was the best realtor I had the pleasure working with. He was super patient with me in figuring out what houses I wanted to see and place bids on. He was incredibly helpful when my lender was causing issues on my closing to buy a house. He went above and beyond what any realtor would do!! "
- Francisco G.
" My husband and I were referred to Alex by a friend and we could not have picked a better person to work with. As first time homebuyers Alex readily shared his years of insight and knowledge from the start. He pointed us in the right direction when it came to purchasing our new home, listening and supporting us in a housing market that was very demanding and far from the norm. Alex was there every step of the way, guiding us through open houses, educating us on any potential red flags. He walked us through the entire loan and purchase process and shared his network of contacts who were incredible to work with as well. Alex was able to make homebuying stress free and fun and we honestly cannot thank him enough. "
- Erin C
" I cannot recommend Alex enough if you are looking to buy a home. What could have been a very stressful and frustrating experience, was made productive and successful, especially in the market that 2021 presented, and all thanks to Alex. We became homeowners this year! We thought we were years away and are so glad we trusted in Alex and his team to get us there. We will continue to work with Alex in the future for any real estate needs we have. Thank you thank you thank you! "
- Tarah Maresh
" Alex is super knowledgeable and proactive in assisting with a search for housing. He was great at providing analyses for comparable properties, future value and bidding strategies. "
- Mike S.
" Alex helped me buy a home in Wilmington and the whole process was incredibly easy even through a pandemic. He is communicative and easy-going and it's abundantly clear that Alex wants to find you a home that you feel comfortable in. He also has great contacts that will make mortgage planning and closing a breeze. I would definitely recommend working with Alex. "
- Tim Hayes
" Alex was super eager to help me find an excellent rental in the Somerville/Cambridge area. He was very responsive and referred me to some great listings. When I did decide on a place, Alex was able to convince the landlord to split the broker's fee with me so it would fit better into my budget. I would certainly recommend Alex to anyone looking to rent or buy in the city. "
- Kyle MacKenzie
" My husband and I were first-time homebuyers in a historically competitive market. Alex was the consummate professional who helped us every step of the way to find our new home. He is dedicated, knowledgeable, and just a genuinely kind and understanding person. Not only did he work hard for us to find homes to view every week, but he connected us with a fantastic team of professionals to help us with everything we needed to make the home buying process easy, and honestly, pretty fun! I cannot recommend Alex enough. Anyone considering buying or selling should reach out to him. "
- Julie Newman
Previous
Next